Top Anchorage Hotels
Holiday Inn Anchorage Hotel Captain Cook
Hilton Anchorage
Millenium Hotel
Days Inn Anchorage
Aspen Hotel
Westmark Anchorage
Long House Alaskan Hotel Westcoast International Inn Comfort Inn Ship Creek Econo Lodge Anchorage Hampton Inn Anchorage Holiday Inn Express
Best Western Barratt Inn Puffin Inn
Super 8 Anchorage
Best Western Golden Lion Hilton Garden Inn
Sheraton Hotel

Alaska Outdoor Adventures
(fishing, hunting & ecotours) Alaska-Outdoors.com
Anchorage Alaska Shopping (Art, crafts, gifts, lodging, real estate) AlaskaMall.com
Welcome to Anchorage Alaska Hotels ~ Lodging & Accomodations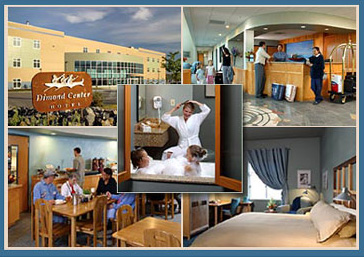 Photo courtesy of Dimond Center Hotel

Anchorage, Alaska, offers a great selection of hotels and lodging to choose from. Most Anchorage hotels are concentrated near the airport or the downtown area, separated by a distance of roughly six miles. Many people choose an airport hotel for their first or last night in Alaska for the convenience, while others prefer to stay at a downtown hotel. For a centrally located (close to the airport, but also close to shopping) we recommend the Dimond Center Hotel. For an airport hotel we recommend the Holiday Inn Express, while the brand new Anchorage Aspen Hotel is a good choice for a nice downtown property. We usually recommend staying two nights in Anchorage, preferably at the beginning or end of your trip. During the summer months, hotel rooms book up quickly, so make your reservations well in advance. For more information on Anchorage hotels, CLICK HERE.
Visiting Anchorage
Anchorage is the perfect base camp for visitors looking to spot a variety of wildlife in surrrounding state and national parkland which provides plenty of opportunities to see Alaska wildlife in their natural settings. Or Anchorage can serve as your jumping off place for the fishing trip of a lifetime into the Alaskan bush. In either event, most people enjoy several days in Anchorage while visiting Alaska.
Wild moose and even the occasional bear can be seen Anchorage, however most wildlife, including dall sheep are seen a short drive out of town. In the city, your first stop should be the Anchorage Museum of History and Art , 121 W Seventh Ave (summer Sun-Fri 9am-9pm, Sat 9am-6pm; rest of year Tues-Sat 10am-6pm, Sun 1-5pm; $6.50), an excellent overview of the state and its history told through intricate dioramas, alongside beautiful examples of carved ivory and basketware.

Featured Activities
Anchorage Alaska Shopping
For online Alaskan art, native crafts, furs, lodging and much more, please visit:
AlaskaMall.com

The rest of the downtown sites are equally intriguing: The Imaginarium , 737 W Fifth Ave (daily: June to early Sept 10am-6pm; early Sept to May Mon-Sat 10am-6pm, Sun noon-5pm; $5), has hands-on displays telling you all about glaciers, the Northern Lights, polar bears and the private life of the dopey-looking moose; the period-furnished 1915 Oscar Anderson House Museum , 420 M St (June to mid-Sept Tues-Sat 11am-4pm ; $3), illustrates early Anchorage life; and the Alaska Experience Center , Sixth Avenue and G street (summer daily 9am-9pm; $10), presents forty minutes of Alaska's best scenery, shot from choppers and beamed onto a 180° wraparound screen, and the admission price includes a film of the devastating 1964 Good Friday earthquake that leveled much of downtown - 9.2 on the Richter scale and North America's strongest-ever quake.

Alaska Outdoor Adventures
For Fishing, Hunting, Eco-Tours visit:

Alaska History and Demographics
Alaska was once a part of Russia. As Alaska's largest city, Anchorage has a rich history, dating back to 3,000 B.C. when the first settlers arrived in the area. Native archaeological sites have been carbon dated at around 11,000 years old with the first natives having arrived via the Beringer land bridge which at one time connected Alaska and Russia. In the mid 1700s, the first Europeans arrived - Russian traders and trappers - converting many natives to the Russian Orthodox Church. The 1770s brought the British in search of the elusive Northwest Passage and Captain James Cook explored the waterway that now borders Anchorage, Cook Inlet. But, the Russians laid claim to present-day Alaska and during the 1800s Russian traders and explorers roamed the area. Russia's financial woes forced it to sell Alaska to the U.S. in 1867 for two cents an acre. And then came the infamous Gold Rush. The rest, as the saying goes, is history.
Anchorage, Alaska, has a population of about 275,000, or 42 percent of the state's population. The Municipality of Anchorage encompasses almost 2,000 square miles which equals the size of the state of Delaware. Located at the base of the Chugach Mountains along the coast of the Cook Inlet in South-central Alaska, Anchorage is as far north as Helsinki, Finland, and nearly as west as Honolulu, Hawaii. Despite inevitable visions of snowbound igloos, in actual fact, Anchorage has a temperate, maritime climate. Protected by the Chugach Mountains and warmed by Japanese currents of the Pacific Ocean, summer temperatures reach the high 70s. Low humidity ensures a surprisingly comfortable climate. Whether you plan to arrive by air, land, or sea, Anchorage's central location makes all options convenient. The Ted Stevens Anchorage International Airport is only six miles from downtown Anchorage and has more than 240 daily arrivals with most major US airlines serving. To get an idea of Anchorage's global location, flight time from Seattle is three hours; eight hours from Zurich; eight hours from New York and 8 1/2 hours from Seoul. Lake Hood is the world's largest and busiest seaplane base with more than 800 take-offs and landings on a peak summer day. Merrill Field, one of the nation's busiest general aviation airports, records more than 230,000 takeoffs and landings annually.
The Alaska Highway (and the Alcan Hwy) links Alaska and the contiguous United States, and is fully paved and offers year-round services. Anchorage is almost 2,500 miles from Seattle and 4,650 miles from New York City. Whether you plan to arrive by car, bus or R.V., the journey to Anchorage is an adventure in and of itself. Please Note: Entering Alaska by road means travelers must clear Canadian customs. For information on regulations, contact Canada Customs, Excise & Taxation at (506) 636-5064 or visit their Web site at www.ccra-adrc.gc.ca/. Several cruise lines offer excursions along the famed Inside Passage from May through September yearly, docking in Anchorage or nearby Seward. The Alaska Marine Highway, the state's ferry system, runs year-round. For further information, call: (800) 642-0066. Anchorage likes to boast that it had a symphony before paved roads and with its rich history. Anchorage not only has its own local stars and Opera Company but it also attracts artists of international renown, from Broadway shows, dance troupes, musicians, comedians and many other acts.
The Great Alaskan Shopping Mall
and The Outdoor Adventure Network
GreatAlaskaMall.com
AlaskaOutdoors.com AlaskaMall.com AlaskaFishGuides.com
Alaskan-Fishing-Lodges.com Alaskan-Vacations.com
America-Outdoors.com American-Sportsmen.com
Alaska-Vacations.com AlaskaHuntGuides.com
Alaska-Fish-Guides.com AlaskaAirCharters.com
Alaska-Hunt-Guides.com AlcanTravelGuide.com
Alaska-Hunting-Fishing-Lodges.com
Worldwide-Sportsmen.com
Alaska-Sportfishing-Lodges.com
Alaska-Fishing-Hunting-Guides.com
Anchorage-Hotels-Lodging.com